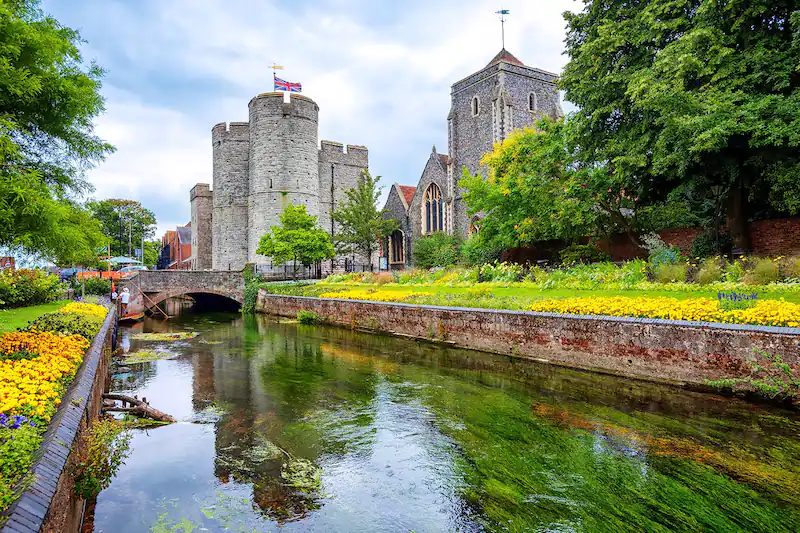 Your guide to student accommodation in Canterbury
Navigating the world of student lettings is tricky, especially if you're in your first year. On the Student Places website you'll find a wealth of information to make finding your next student home a bit easier. We have put together all our knowledge to create your guide to student accommodation in Canterbury.
Best student areas in Canterbury
If you've ever been to Canterbury, you may know there are parts of a university campus dotted all over the city. Really, everywhere you turn there's at least something associated with a university.
At the top of the Whitstable Road is the main UKC campus so, as you'd imagine, the area around here is a prime student stomping ground. The student houses in St Stephens Canterbury tend to get snapped up quickly. Not only do these properties tend to be on the large side, but they're also close to the UKC campus AND the city centre. If city centre living is more your speed, St Dunstan's in Canterbury is great for students.
The student lettings in Northgate or Wincheap, Canterbury are a great option, especially if you go to either CCCU or the University of Creative Arts.
Wincheap has long been popular with students because of its affordable student housing, close proximity to Canterbury East railway station (great if you have placements!) and nearby city-centre. Wincheap is situated southwest of Canterbury's city centre and runs through the stretch of A28 that connects Canterbury and Ashford, meaning it is well-connected.
Wincheap is roughly a 25-minute walk to CCCU, although Augustine House and its state of the art library are right in the middle. Whilst, to get to UKC it is around a 10-minute car journey and 20-minutes by bus.
Wincheap also has many independent shops, restaurants, newsagents, an off licence, charity shops, cafes and a petrol station along its main road, as well as a Morrison's, an Aldi, a Boots, B&M and an Argos. Wincheap also has a nice park known as 'The Dane John' great for enjoying a picnic, going for a jog or attending one of the park's many year-round events.
Your nearest nightclub is Club Chemistry which is opposite Canterbury East station with student nights on Wednesdays. Escape Kent, Canterbury's biggest escape room is also based in Wincheap near the Maiden's Head pub.
St Dunstan's is located to the west of Canterbury and has a safe villagey feel to it. It'll come as no surprise that St Dunstan's is popular with students, largely thanks to its affordable student housing, close proximity to Canterbury West railway station (again great for placements, trips to London and going back home!), and its independent shops, bars and restaurants.
St Dunstan's is roughly a 15-20-minute walk to both UKC and CCCU. Of course, the reliable and widely-used Unibus service to the UKC campus runs every few minutes from two bus stops in St Dunstan's – one opposite the Bishop's Finger pub and the other by the Church. After midnight, the service still runs, just less frequently.
St Dunstan's has a Sainsbury's, corner shops and a greengrocer for your fresh produce, as well as an Asian supermarket which has an unrivalled selection of instant ramen and little moons! For foodies, Café des Amis is a Canterbury institution, offering up a plethora of Mexican dishes (and some pretty killer tequila) and also the refectory kitchen is a must-visit! Westgate gardens is also extremely close by great for an impromptu picnic or to decamp with your laptop.
Westgate Weatherspoon's is an obvious meet-up venue for those on a budget, however, there are a wealth of fantastic pubs, bars and restaurants around here like The Unicorn, The Bishop's Finger or Canterbury's very own gin palace, Pegasus.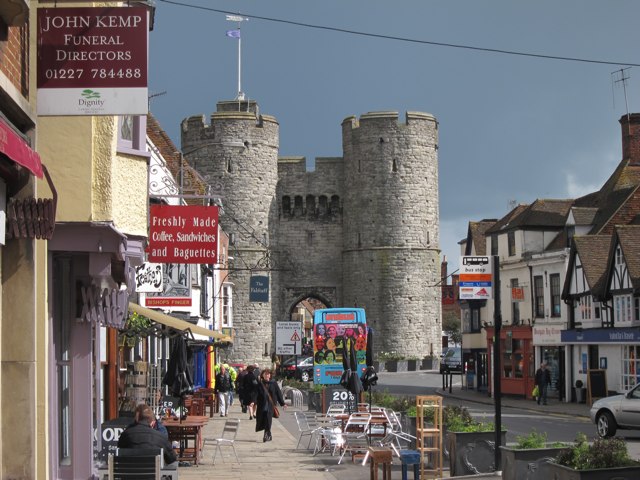 St Martin's is a quiet and leafy suburb of Canterbury that's popular with students and is home to the oldest church in Britain (yes, really!). There are regular buses into town, including a free shuttle service. Bonus: there are lots of free off-road parking here and so keeping and running a car has never been more affordable.
Great for those studying at the University of Creative Arts (UCA) or CCCU, you'll have a pretty straightforward walk to campus from St Martin's (and bonus: it's all downhill). Although St Martin's covers a wide area of streets, lanes and cul-de-sacs, you'll never be further than 15-minutes away from town.
St Martin's is pretty quiet and residential, which is not a bad thing! There are some local shops and a gym at Polo Farm for CCCU students, plus the aforementioned oldest Church in Britain, St Martin's Church. If you fancy a walk and a country pub, the villages of Stodmarsh, Ickham and Wickhambreaux are a short car or bus ride up the hill, away from Canterbury. A little further away you'll find Howletts Zoo where rumour has it, you can spot the elephants for free via a secret path on the perimeter.
Northgate is one of the prettiest areas of Canterbury and arguably Canterbury's most popular "gate" for students due to its proximity to town, the CCCU campus, and the University of Creative Arts (UCA).
Northgate is closer to the CCCU campus, which is roughly a ten-minute walk away. The University of Creative Arts (UCA) is a little further but totally doable on foot in around 15-20 minutes. It is best to reach St Dunstan's first before heading to UKC where you can get a bus, or tackle the trek up the hill yourself (top tip: it's slightly less steep if you cut through Beverly Meadow around the back of Canterbury West station).
Northgate is packed full of great student pubs (locals and students alike flock to The Dolphin, and The Parrot) independent shops, and historical buildings (including the highly-instagrammable Crooked House). It even has the calm and soothing River Stour meandering through it if you're after a moment of zen before a deadline. It also has a Romanian supermarket, games shop, running outlet, delicatessen, chocolate shop (which sells the BEST chocolate-dipped strawberries in the Spring) and so much more. Oh, and there's a Sainsbury's too.
Many of Northgate's pubs are geared towards students. From The Penny Theatre to The Bell and Crown, one of Canterbury's most beloved "proper" pubs (with proper beer to boot). There is also a range of trendy restaurants including independent Italian Posillipo, Texas BBQ favourite The Korean Cowgirl, and Mister Miyagi, your first and only port-of-call for great sushi.
St Stephen's is one of Canterbury's quietest residential areas and very close to UKC (great and a quick trip to campus if you have an early morning seminar!). It's a popular area for students and has great transport links into the city. There are a few pubs in the area and a couple of local shops but what St Stephen's has going for it is its peace and tranquillity, and several affordable student lets.
If trekking up hills before an early morning lecture isn't your thing, St Stephen's is the area for you. The district comprises several streets, gardens, avenues, roads and places, including St Stephen's Hill and Hales Place – an area so densely populated by students that you'll definitely spend an evening here binging Netflix with your mates at some point in your university career. St Stephen's is sort of like living in Halls of Residence – only cheaper!
Sainsbury's is the closest supermarket, roughly a 15-minute walk down St Stephen's Hill from Hales Place. Before you reach it, there's a One-Stop, a post office, and a Londis, plus a newsagent to stock up on those bare essentials. Near Sainsbury's, there's a gym and a swimming pool at the local leisure centre, plus a pharmacy.
With the many excellent UKC bars, clubs, and cafes *right there*, you'll probably spend most of your time on campus. But, if you did fancy a night out with the locals, head over to Ye Olde Beverlie, an old-fashioned boozer on the edge of St Stephen's Green. It has a nice beer garden and a great selection of local beers and – only slightly incongruously – keenly-priced Mexican food.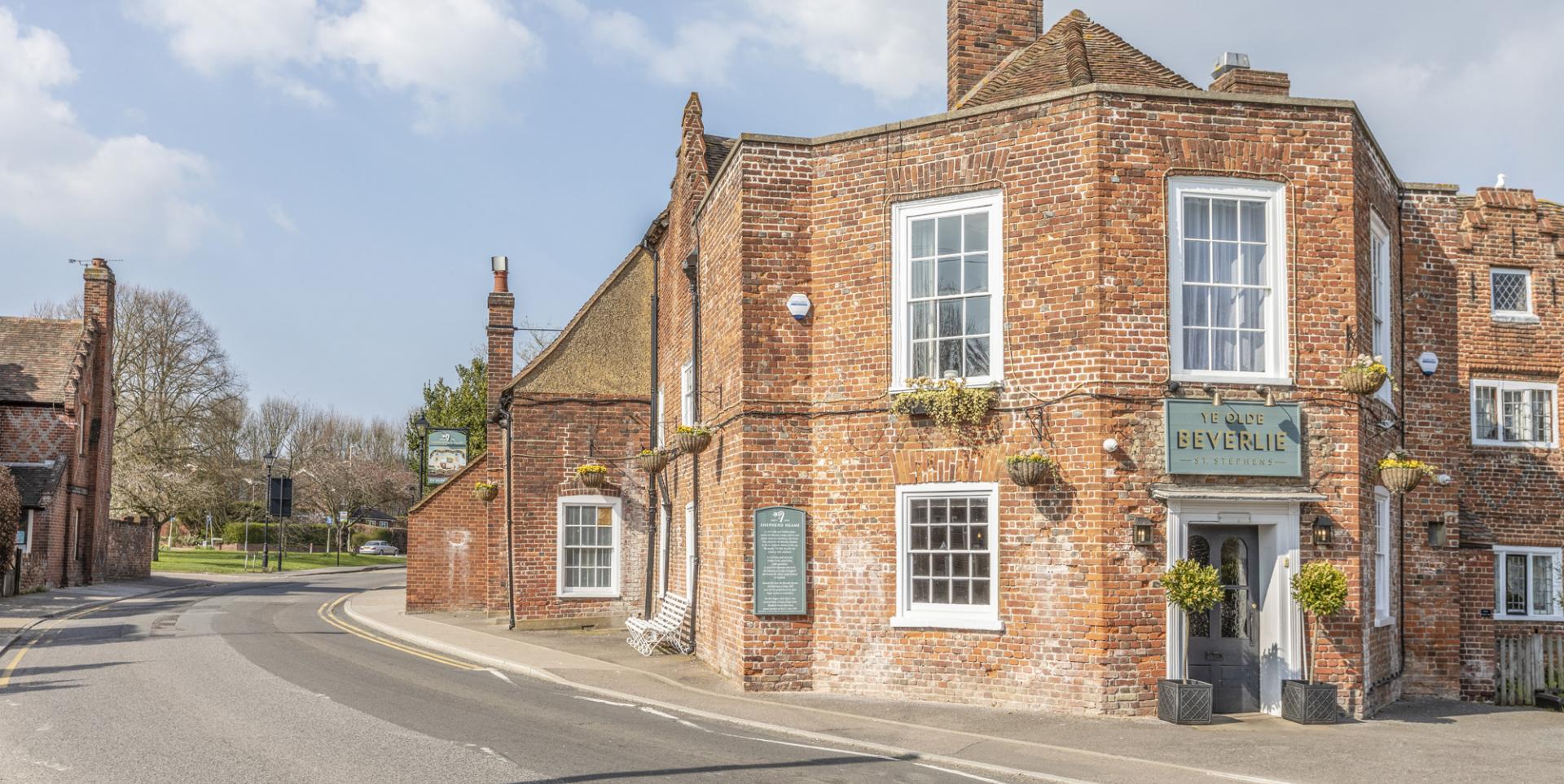 At the top of the Whitstable Road is the main UKC campus so, as you'd imagine, the area around here is a prime student stomping ground. The Whitstable Road connects the UKC campus with the Canterbury town centre. As its name suggests, if you keep walking past campus, you'll eventually end up by the seaside at Whitstable. There are lots of lovely, safe cul-de-sacs along the road which are a big hit with students.
Canterbury Student Accommodation
We hope this guide has given you some helpful information about Canterbury and the best places to live as a student. Why not take a look at our available student accommodation in Canterbury? We have a wide range of properties to cater every students needs, from 1 bedroom studio apartments to massive 8 bedroom houses. Student Places has it all. Click the button below to see our available student accommodation.